I did this last year sometime on my blog. I thought I should do it again though because I have discovered soooo many more songs since then!
NOW, with the help of my trusty iPod, allow me to present "My Favorite Songs as of March 4th 2012"!
Dr.Feelgood-Mötley Crüe
Okay, this would probably have to be my favorite song PEROID. If you browse through my iPod, you will find five different versions of this song. Yes, you read that right, FIVE different versions of Dr.Feelgood! The first is a live track from Carnival of Sins; second is the original; third is the demo track; fourth is another live track...this ones from the album
Live: Entertainment or Death
; and the last and final one is YET another live track from
Supersonic and Demonic Relics
. I know, whoever is reading this probably thinks I'm insane...but, oh well! ;)
Life is Beautiful-Sixx: A.M.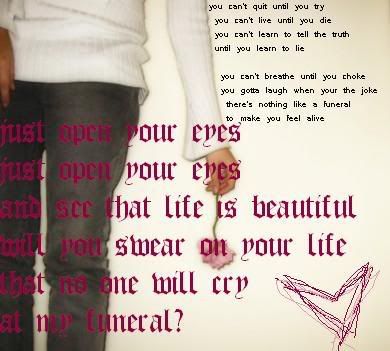 "You can't quite until you try...you can't live until you die...you can't learn the to tell the truth until you learn to lie...gotta laugh when you're the joke...nothing like a funeral to make you feel alive."
This is truly a beautiful song. To me, it's about how you can't appreciate life until you lose something.
Shakin' Hands-Nickelback
"She had her eyes on the prize as the girl next door. You grow up quick when you grow up poor."
Chad Kroeger's voice sounds AMAZING in this song...oh how I adore his voice...hee hee...
Save Your Love-Great White
"I wake in the night to find you on my mind...deep in a dream, you will always be, until the end of time. I look into your eyes, they touch my soul."
Love songs this well written bring tears to my eyes! I hate when love songs are corny and lame, but I love how this song is so deep and meaningful.
Get Stoned-Hinder

Rock n' Roll Junkie-Mötley Crüe
I like how the bass is very deep and dark in this song.
Pour Some Sugar on Me-Def Leppard

Beautiful Girls-Van HalenBeautiful Girls
is such a playful song from Van Halen! The bass and guitar just make you want to get up and dance!
Bark at the Moon-Ozzy Osbourne
One of the best Ozzy songs!
Sick Love Song-Mötley Crüe
"Chew me up like a meat-grinder...you're cold blooded like a sidewinder...I don't need to know the reminder."

Sad But True-Metallica

Figured You Out-Nickelback

Addicted-Saving Abel

Bleeding Love-Leona Lewis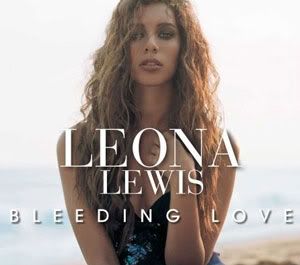 "Closed off from love
I didn't need the pain
Once or twice was enough
And it was all in vain
Time starts to pass
Before you know it you're frozen

But something happened
For the very first time with you
My heart melts into the ground
Found something true
And everyone's looking round
Thinking I'm going crazy"
Hot N Cold-Katy PerryControl-Puddle of MudButtons-The Pussycat Dolls featuring Big Snoop Dog

Young Lust-Pink Floyd
My favorite song from Pink Floyd!
You Give Love a Bad Name-Bon Jovi
Okay, I don't much care for Bon Jovi, but I really like this song.
Don't Go Away Mad (Just Go Away)-Mötley Crüe
"We could sail away, or catch a freight train, or a rocketship into outer space."
Love in a Elevator-Aerosmith
My absolute favorite song from Aerosmith!
Lit Up-Buckcherry

Fame-Tommy Lee
This song has a cool hip-hop/rap/rock feel to it. It has a nice beat to it.
Angela-Mötley Crüe

Enter Sandman-Metallica
I love the beginning to this song. It's so cool how it slowly builds up! It really has you on the edge of your sit with suspense as everything builds up.
Girl With Golden Eyes-Sixx: A.M.
"...And though I hardly know her, I let her into my veins and trust her with my life."
Bad Girlfriend-Theory of a Deadman

Poundcake-Van Halen
In the beginning of this song, Eddie Van Halen uses a drill and a guitar. Odd, yes, but it makes a GREAT SOUND!
Home Sweet Home-Mötley Crüe
"My hearts like an open book, for the whole world to read."
Autobiography-Ashlee Simpson

Heart Failure-Sixx: A.M.
"I'm face down on the tracks...the train is coming fast and it's not derailing. It's not the first time and this won't be the last that my heart is failing."
Money Talks- AC/DC
"Come on, come on, listen to the money talk."
Too Fast For Love-Mötley Crüe

Still of the Night-Whitesnake

Someday-Nickelback
"Now the stories played out like this, just like a paperback novel. Let's rewrite an ending that fits, instead of a Hollywood horror."

Slither-Velvet Revolver
Everything in this song sounds soooo amazing! The guitar is fast yet still clear and has LOTS of soul in it. The bass has this great and deep beat to it. This song is overall rocking!

Lay it Down-RATT

Dude (Looks Like a Lady)-Aerosmith

Girls, Girls, Girls-Mötley Crüe

Another Brick in the Wall-Pink Floyd
"We don't need no education
We don't need no thought control
No dark-sarcasm in the classroom"
Another Brick in the Wall has such a good message. I mean, for real, who wants to be
'just another brick in the wall"?

Cherry Pie-Warrant
Cheesy 80's songs at their finest...but I just can't help but love this song!
Dirty Little Secret-The All-American Rejects
"You are the only one who needs to know."
Live Wire-Mötley Crüe
"Nono, better turn me loose...better set me free. 'Cause I'm hot, young, and running free, a little bit better than I use to be."Lips of an Angel-Hinder
"Lips of an Angel" made me fall in love with Hinder.

Never Again-Nickelback

With You-Jessica Simpson

Without You-Mötley Crüe
"I could face a mount in, but I could never climb alone. I could start another day, but how many I just don't know..."
Someone That You're With-Nickelback
"Instead of anyone I want, I'm sitting here in second place."
Take it to the Limit-Hinder featuring Mick Mars
Mick Mars's guitar playing makes this song great. It really takes Hinder 'to the limit'.
Lala-Ashlee Simpson

Don't Cha-Pussycat Dolls

Unwritten-Natasha Beddingfield
"The rest still unwritten..."
This song is so inspiring!
Shoot to Thrill-AC/DC

And The Cradle Will Rock...-Van HalenWalk This Way-Aerosmith

Classic Aerosmith.

Rock Star-NickelbackHating Hollywood-Theory of a Deadman
You never hear a lot of Theory of a Deadman's earlier stuff. But, their earlier music is really good!
Piece of Your Action-Mötley Crüe

Afraid-Mötley Crüe
"She's so afraid to kiss and so afraid to laugh...is she running from her past? It's only life. She's so afraid of love and so afraid of hate. What's she running from now?"
Animals-Nickelback

Forever-Papa Roach

"In the brightest hour of my darkest day, I realized what is wrong with me. I can't get over you...I can't get through to you. It's been a helter-skelter romance from the start. Take these memories, that are haunting me of paperman cut into shreds, by his own pair of scissors."
7 Things-Miley Cyrus
I'm kind of embarrassed to admit this...but I dig this song.
Hot For Teacher-Van Halen
The drums and guitar are freakishly fast in this song!
Runin' With The Devil-Mötley Crüe

So Happy-Theory of a Deadman

I Get Off-Halestorm

Scream-Avenged Sevenfold

Good Times-Tommy Lee
"Put down the magazine and get of the phone, there's a place I wanna show you and it won't take long."
This song is so nice and peaceful...
Van Nuys-Sixx: A.M.
"...and everyone's eyes are blue...and everyone's mouth is dry...and nobody wants to die, in Van Nuys."

Use Me-Hinder

Better Than Me-Hinder

Same Ol' Situation (S.O.S.)-Mötley Crüe



Rocketship-Mötley Crüe

Rattlesnake Shake-Mötley Crüe

Primal Scream-Mötley Crüe
"Daddy was a young man, his home was living-hell. Mama tried be so perfect, but now her mind is a padded-cell."
Photograph-Def Leppard
Next Contestant-Nickelback

Kickstart My Heart-Mötley Crüe

Room 21-Hinder

How Long-Hinder

Gotta Be Somebody-Nickelback
"This time I wonder what it feels like to find the one in this life. The we all dream of...but dreams just aren't enough. So, I'll be waiting for the real things...I'll know it by the feeling. The moment when we're meeting will play out like a scene straight of the silver screen. Right up till the end...until that moment when I find the one that I'll spend forever with."
You Shook Me All Night Long-AC/DC

Feelin' Way Too Damn Good-Nickelback
"...and it's like every time I turn around, I fall in love and find my heart face down and where it lands is where it should."
Hysteria-Def Leppard
This is such a pretty little number from Def Leppard.
Janie's Got a Gun-Aerosmith
Sad song. :(
If I Die Tomorrow-Mötley Crüe
"It brings out the worst in me when you're not around. I miss the sound of your voice, the silence seems so loud. 'Cause there's no one else since I found you."
Lyrics wise, I love this song...but music wise, not so much.
Wild Side-Mötley Crüe
This is one of the best songs from the "Girls" era!
Dancing on Glass-Mötley CrüeIf Today Was Your Last Day-Nickelback

"If today was your last day...if tomorrow was too late...could you say goodbye to yesterday?"
Fight For All The Wrong Reasons-Nickelback

Something in Your Mouth-Nickelback

Stick to Your Guns-Mötley Crüe

Drop Dead Legs-Van Halen

Looks That Kill-Mötley Crüe

"Now listen up....she's a razor sharp...if she don't get her way...she'll slice you apart."
Shout at the Devil-Mötley Crüe

Pray For Me-Sixx: A.M.

Ain't Talkin 'Bout Love-Van Halen

Animals-Def Leppard

Wannabe-Spice Girls

Up All Night-Slaughter

Ten Seconds to Love-Mötley Crüe

Take Me to the Top-Mötley Crüe

Smokin' in the Boys Room-Mötley Crüe covering Brownsville Station

Rock n' Roll Dream-Crooked X

No More Tears-Ozzy Osbourne

Round and Round-RATT
"Cold in vain, she said I knew right from the start you'd put an arrow through my heart."
How You Remind Me-Nickelback

Glitter-Mötley Crüe

Eruption-Van Halen
One word...WOW.
Too Young to Fall in Love-Mötley Crüe

Up All Night-Hinder

X-Mas-Sixx: A.M.

Sinners & Saints-Mötley Crüe

Welcome to the Machine-Mötley Crüe

MF of the Year-Mötley Crüe

Pieces of Me-Ashlee Simpson

You're All I Need-Mötley Crüe

All in the Name of...-Mötley Crüe

This Ain't a Love Song-Mötley Crüe

Sorry-Buckcherry
Man in the Box-Alice in Chains

Slice of Your Pie-Mötley Crüe

Nightmare-Crooked X

Get it For Free-Mötley Crüe
**************************************************************
Well, there you have it! My favorite songs...of course, I'm probably missing some and OF COURSE the list will keep on growing!
Until next time...
Sealed with a kiss...
-Raven