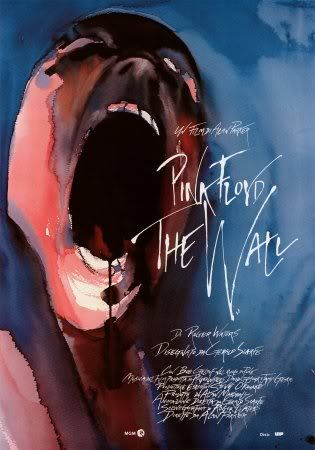 I recently watched Pink Floyd's famous movie,
The Wall
. It was a very sad, deep, and somewhat creepy little tale. If you've never watched
The Wall
or aren't too sure what it's about, allow me to tell you more...
The Wall circles around the life of Pink, a dark, schizophrenic, messed-up soul of a Rock Star. It's basically Pink Floyd's CD,
The Wall
put to life, through a musical. Pink (who is loosely based off of Roger Waters) lived a very tragic life. His Dad was killed in war when Pink was just a young child. He was then shipped of to boarding school where they were horrible to him. His drama didn't even end once he hit adulthood, if anything, they became much worse.He married a women, who cheated on him while he was on tour. Pink's problems soon hit an all time low after that when he experiences a mental breakdown. After that, Pink is hauled off to an insane asylum. Like I said,
The Wall
is a very depressing, to say the least.
I must say, I loved the movie, but it was kind of hard to follow. It's sorta all over the place with flashbacks from Pink's childhood throughout the entire movie. I soon realized that the little flashback were things that were haunting him in the present day. One part that freaked me out (in a good way you could say) was when Pink shaved off all the hair on his body...not to mention his eyebrows!
Aside from everything, I would give this movie 5 stars any day! I'm actually thinking about watching it again sometime soon...
Sealed with a kiss,
-RAVEN